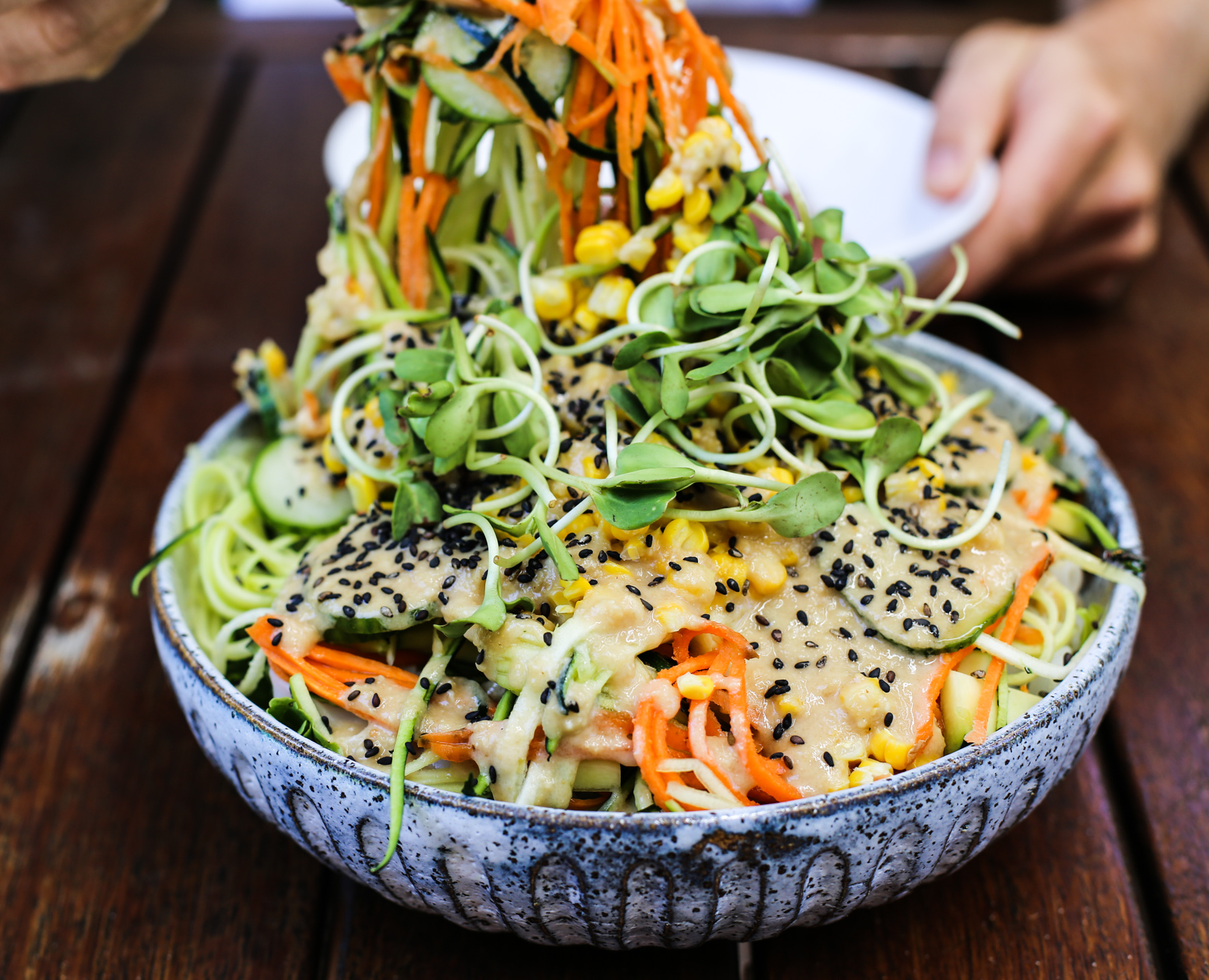 This Pad Thai has got to be one of my favourite meals, which is a pretty big thing for me to say because god knows I've made a lot of meals. I just add in whatever veggies I have on hand but my non negotiable's are that they are crisp, fresh, and always covered in the satay sauce. You'll regret it if you don't make enough sauce, trust me.
I love eating this with chopsticks as it makes you eat slower and really concentrate on the beautiful rainbow plate in front of you.
Making sure I always have mainly plants on my plate is really important to me, and then I'll choose carbs, healthy fats and protein to add to it. So this dish ticks every box ✓✓✓
It is a great addition to a BBQ or picnic as a side salad, people are always impressed by how great it looks and tastes. I'm actually planning on taking this on the plane with me so I've got delicious and nutritious meals instead of the plane food. What are your favourite snacks / meals to take on the plane? I'm currently writing up a list and inspiration is always welcome.
Love and Nourishment // PP x

Ingredients
Serves 2 large – 4 small 
Salad
1 packet of Rice noodles (thin or thick) / Kelp noodles / Soba noodles
1 large carrot
1 large zucchini
1 cucumber
1 corn cob
1/2 large avocado
1/2 green or red capsicum
1 lettuce / 4 good handful of spinach
Satay Sauce
3 tbs peanut butter (preferably homemade)
1 tbs tahini
1 tbs soy sauce
1/2 tbs maple syrup
1 tbs lemon juice
3 tbs water
1 tbs grated ginger
Toppings 
Sprouts
Black sesame seeds
Additional add ins
Radishes
Toasted sesame or pumpkin seeds
Add pan fried tempeh or tofu
Chilli sauce
STEP 1
Prep
Cook the noodles and set aside
STEP 2
Cook tempeh or tofu if adding and set aside
Cook corn and stand it up to slice it off the cob
STEP 3
Wash and roughly chop up lettuce/spinach
Julienne carrot and zucchini
Finely slice capsicum, avocado and cucumber
STEP 4
Make satay sauce by mixing everything together until smooth. Just add more or less water if you want it thick or thinner
STEP 5
Assemble
In a large bowl or two small ones place the lettuce/spinach
Then the noodles and julienned vegetables
Scatter the other vegetables over it
Generously drizzle the satay sauce over everything
STEP 6
Top with sprouts and sesame seeds, I usually add some chilli sauce too
Enjoy !
Notes:
Gluten free✓ Vegan✓  Dairy free✓ Real Food✓  Refined sugar free✓ Delicious✓ Can be made Raw✓
Found this old photo of it from last summer probably, different yet the same and equally as delicious 😉