Welcome to Paradise Pantry, a blog dedicated to sharing cooking and lifestyle tips to help your body and mind thrive. The recipes here revolve around my plant-based way of eating and I hope you will discover a new way of cooking without comprising between flavour and nourishment. PP also offers delicious wholefood made to order.
---
ABOUT HOLLY
Hello fr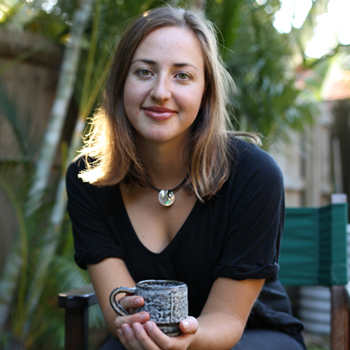 iends, I'm just going to say first of all I am a health nerd and self confessed tea, banana and nut butter lover. Currently I am in my third year of studying a Bachelor of Nutrition and Dietitics on the Gold Coast, Australia which more often then not leads to procastabaking… We all know that productivity is heightened with a freshly baked chocolate beetroot muffin in one hand and pen in the other.
Walking, yoga, swimming and snowboarding (when I can find snow) are how I love to move, if I'm not in the kitchen I will most likely be out doing one of those. I am ridiculously organised, adore travelling, get excited over farmers markets and love ticking things off in my diary. I have a chocolate border collie whose name is Blaze (nickname Blazedawg), he features in a few of my photos because more often than not he photobombs the picture investigating what smells so good, or he is just too pretty not to be in it. I've lived in Canada and France so if you're from either of those countries I'll have a bit of a soft spot for you.
Paradise Pantry is my dream and it will continue to grow and evolve with me. When I become an Accredited Dietician the plan is to offer Dietitic Services as well to achieve the goal of helping the world become healthier and happier. I look forward to helping you along your health journey and inspiring you with recipes and lifestyle tips. If you would like to know more keep reading the questions at the bottom of the page, check out my blog posts or send me an email. I am very active on Instagram and Facebook, so if you're into mouthwatering pictures of healthy food come follow and say hi.
---
PARADISE PANTRY PHILOSOPHY
Happiness for me comes from cooking and creating recipes with wholefood, unprocessed ingredients. My focus is on vegetarian food, using wholegrains, legumes, good fats, fruits and vegetables to be the star of any dish. I eat and love food, a lot. I strongly believe in listening to your body, its cravings for nutrient dense food and not counting calories.
Cooking inspired and calms me, plus I love watching other people be nourished and enjoy my food.
But most of all my passion probably comes from the fact that I just want to eat whatever I'm cooking.
Paradise Pantry is about promoting a balanced lifestyle and eating real food. Bringing to light the fact that you can enjoy fruit and vegetables not because you are told that you should, but because you really love eating them and feeling the benefits from them.