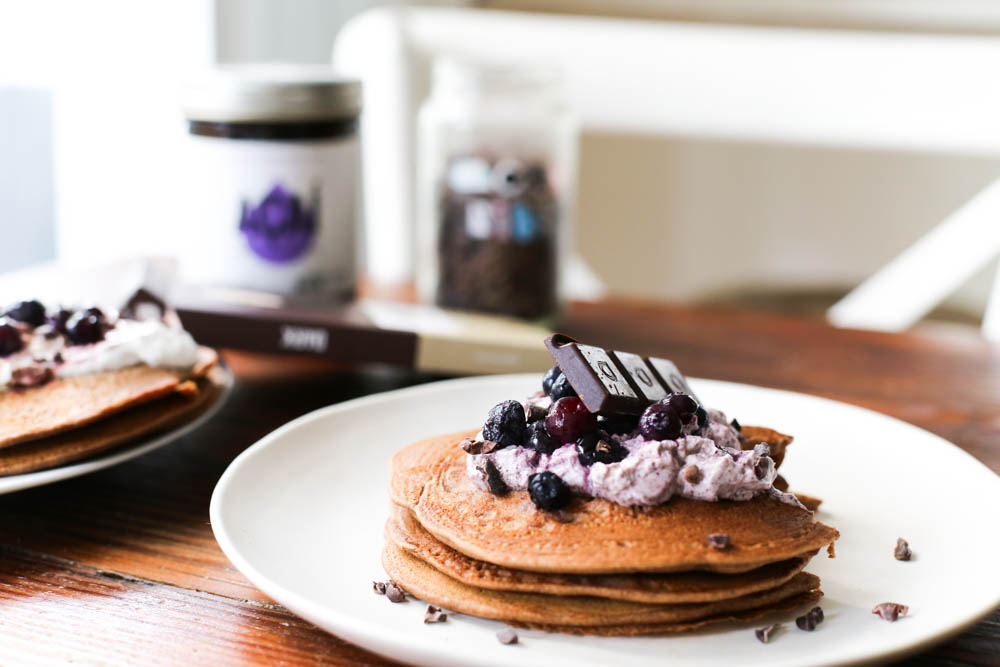 So you know what you're having for breakfast this Sunday ✓
This idea just came to me when I was laying in bed on a Sunday wondering what to eat. I have to have pancakes at least once a week so I was definitely feeling like some pancakes were going to be made. The stunning jar of Loving Earth Acai powder just keep popping into my head. How can I combine them… I wanted to keep the nutritional content as high in the Acai powder as possible so I didn't want to cook it, plus I was curious to see how it would go in something other than a smoothie. Lightbulb, incorporate it into my array of toppings! Andy that's how this combo was born.
The creamy acai, coconut topping pairs perfectly with the chocolate and you are nourishing all the cells in your body! Win win.
The quality of all of Loving Earths ingredients really shine through and this chocolate leaves me speechless every mouthful. Especially, when I placed a piece in-between each pancake, I died and went to heaven. And the best thing about it, you leave the table feeling energised, satisfied and light. Not at all like you would feel it these ingredients were processed and filled with nasty stuff.
You know how the first pancake always is a little bit rubbery and sad? Well my trick it to get the pan heating on low while you are mixing everything and then by the time you cook it, the heat is perfect. Yay, now all the pancakes are of equal fluffiness ! (But seriously, it has changed my pancake life….)
I don't like to add any actual sweetener to the pancake mix because I find the toppings to be sweet enough, a neutral base takes on the sweetness and helps balance the flavours. But if you feel like it needs something add in a ripe banana or a teaspoon of your preferred sweetener ❤
Dairy free ~ Gluten Free ~ Vegan ~ Refined Sugar free
Ingredients
Serves 2 (hungry people)  – makes roughly 3 pancakes each 
Pancakes
6 tbs (heaped) of buckwheat flour
3 tsp of Loving Earth cacao powder
1 tsp baking powder (gluten free)
1 teaspoon of coconut oil (melted) + extra for frying
1 chia egg /  1 organic egg
1 tsp of vanilla paste
3/4 – 1 cup of nut or seed milk, (I used almond)
Acai, Coconut yoghurt
1 – 2 tbs of Loving Earth Acai powder  (depending on how strong you want it, start with 1 tbs)
1 tbs of Loving Earth coconut paste
4 heaped tbs of Coconut yoghurt
Toppings
Loving Earth dark chocolate / any of their amazing chocolates!
Maple syrup / Honey
Blueberries
Toasted nut and seeds
STEP 1
PANCAKES
Make chia egg if using, mix 1 tbs chia seeds with 3 tbs of water and leave to sit for 15 minutes. 
Mix dry ingredients in a bowl.
STEP 2
Heat fry pan over low – med heat.
STEP 3
Mix wet ingredients  together in a small bowl and then add into the dry and stir to combine.
Add chia egg if using. 
STEP 4
Pour about 2-3 tablespoons worth of the mixture into the frypan.
STEP 5
Flip when there are quite a few bubbles on the surface and pile up the pancakes. Cover them with a clean tea towel to keep them warm.
STEP 6
Serve hot with dark chocolate in between each pancake.
Add your desired toppings, enjoy every delicious mouthful and thank Loving Earth for being such geniuses.
STEP 7
ACAI, COCONUT YOGHURT
Mix all ingredients together quite throughly in a small bowl.
Notes: