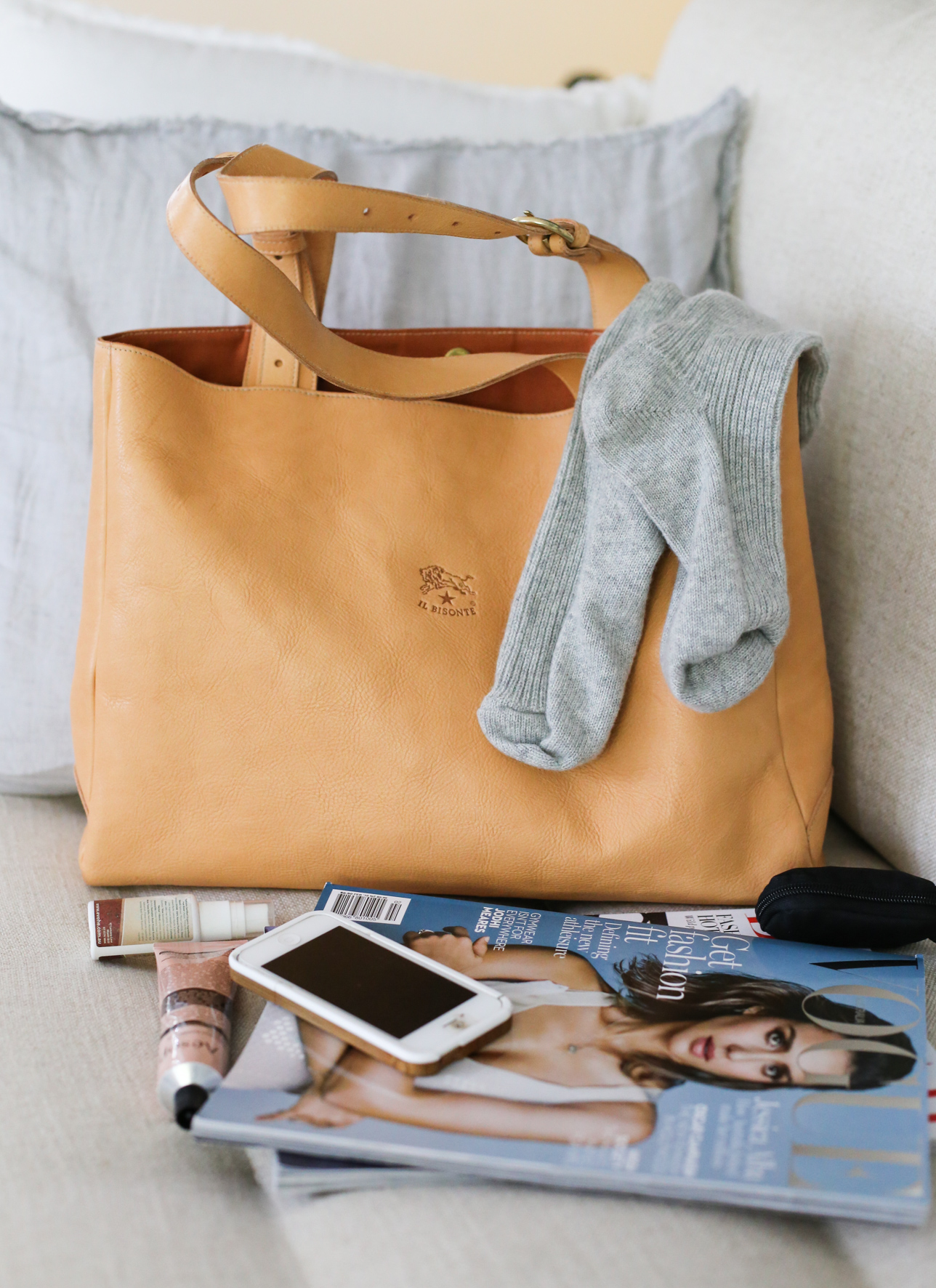 At home its quite easy to eat well, but travelling and staying healthy is a whole other ball park.
I'm mostly referring to just the long car, train, bus, boat and plane trips. Once I'm at the destination all is good in the world. It's the navigating & searching for wholesome, real food goodness on the plane, in the middle of an airport or service station that is the hard part (good luck).
My stomach can be quite sensitive to certain foods and I don't like eating processed junk, so with a long haul flight to Canada coming up I started thinking about what I was going to eat to feel great to get my holiday off to a good start.  I can't think of anything worse than feeling bloated and have having abdominal cramps squished in a plane when I'm starting the holiday of a lifetime. And I'm sure many of you feel the same way so I wanted to share my travel snacks and tips that I stick to as much as possible.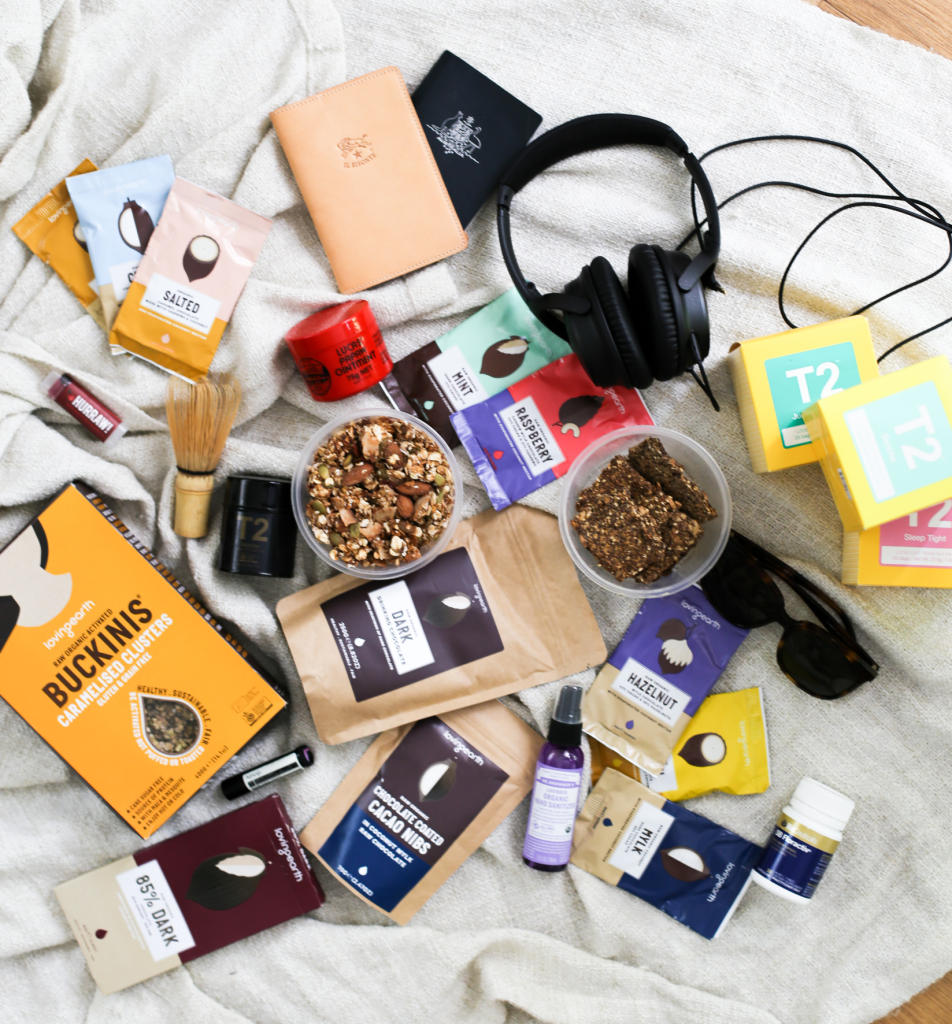 My food list is exactly what I am taking on the plane with me, although this is specific to me (sticking to Low FODMAP foods) they are all still great snacks / meals to take travelling as most don't contain dairy products, eggs, pretty much anything that can go off. And the ones that do, just make sure you eat them first/keep them cold as long as possible.
As I mentioned before my list is for me and my tummy, so most of you would be able to enjoy loads of other healthy options >> see other ideas below. I'm usually not so fussy and eat quite a few high FODMAP foods but I really, really don't want to start my holiday with a sore tummy.
You want to focus on fuelling your body with healthy fats, protein and carbs. Think nutrient dense but energy poor AKA filling your cells up with nutrients but not lots of kilojoules which get turned into fat to be stored. As you are pretty much just sitting down for hours on end, whether you like it or not.
Its also worth thinking about whether its easy to eat and pack. We all know that some yummy things can be a disaster to eat, which is fine at home but definitely want to avoid it on a cramped plane. I've had my fair share of getting food over me and the seat so lesson learnt.
Throughout the year I build up a supply of plastic containers/cutlery to use to store the meals and snacks. It means you can dispose of it as soon as you've eaten it and your bag gets lighter and lighter. Especially great if you know you're not going to need containers on the rest of your trip. And always, always pack napkins.
Try and avoid alcohol on the flight, your body will thank you for it. Focus on the drinks you'll enjoy on your holiday, in that beautiful destination. Herbal tea and water are the way to go when on the plane.
Focus on packing lots of brightly coloured fruit and vegetables, nuts, seeds, a healthy treat to have whilst watching a movie (hello Luvju!), and non perishable proteins and carbs.
You'll have the best food on the whole plane, trust me. 
What are your travel essentials / tips?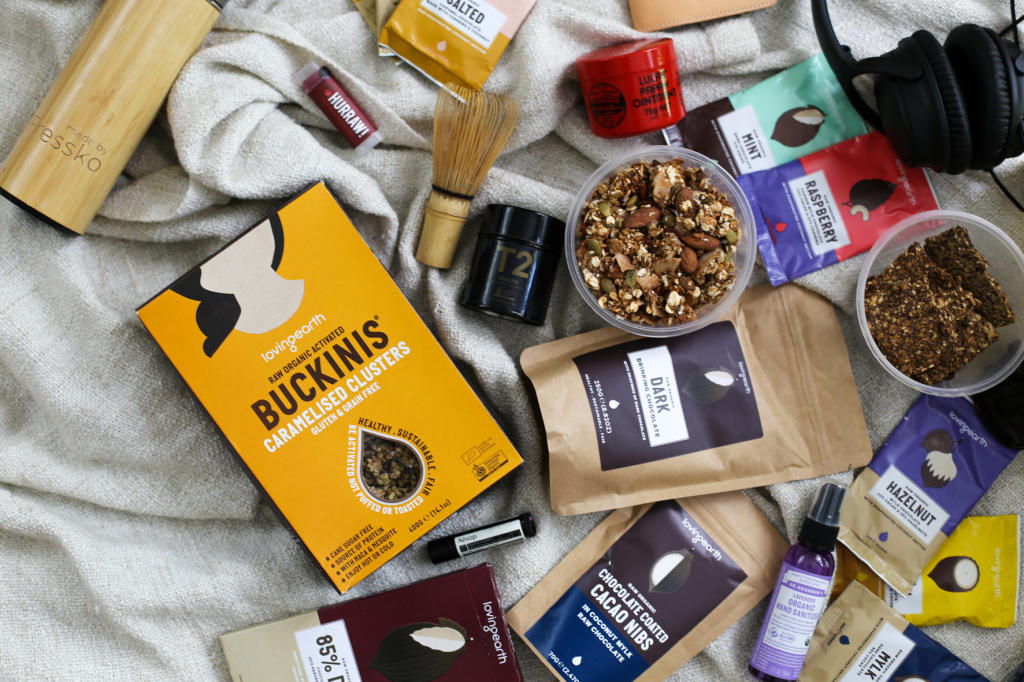 Ingredients
Must have Food
Teabags – green, peppermint, bedtime – (I like T2) just ask for hot water and you're good to go + take your own thermos 
Kombucha / Ginger Kefir – drink before customs (My favourite kombucha is Buchi / I make my own ginger kefir) 
Hard boiled egg w/ salt and pepper – snack
Toasted spelt wrap w/ roast veggies – Lunch
Berries / Kiwi fruit / Loving Earth Luvju – snack
Seed Crackers with pumpkin seed dip / avo or tomato or vegemite – snack
Nourish me Pad Thai – Dinner
Granola – Breakfast
Bananas w/ Nut butter & Cacao nibs – snack
---
Other ideas:
Bliss Balls – I love choc, acai & lemon, coconut 
Spirulina Sesame Bar – recipe coming soon 
Carrot sticks and hummus
Eggplant soba miso salad
Massaged Kale roast veggie salad
---
Food to take to the destination – I always take a couple of items of food that I love / don't think I'll find in the shops. Just make sure you read up on the customs of the country you're going to. Usually vegan, pre packaged food are the best bet.
Buckinis – Loving Earth
Hot Choc Mix  – Loving Earth
Matcha powder and whisk -T2 or Matcha Maiden
Energy bars – Emma and Toms
Healthy Chocolate – Loving Earth
Teabags – T2
---
Non food Travel Essentials
Probiotics – Make sure they don't have to be stored in the fridge, I use Bioceuticals SB Floractiv
Hand sanitiser – I like On Guard Doterra essential oils and Dr Bronners Lavender spray
Headphones – Can't go without my noise cancelling Bose headphones, totally get rid of engine noise & that crying baby
Comfy yet sophisticated clothes – White converse, black jeans (I swear by Paige denim), bralette, comfy tee and grey sweater
Good book – Currently reading Game of Thrones #youknownothingjonsnow
Diary – To write down appointments / reservations / notes to look back on 
Bag – Make sure its big enough and comfortable to carry, my Il Bisonte Tote is perfect 
Socks – Put these on to feel comfy and help you sleep. Obsessed with my cashmere Jac + Jack socks, so soft !
Doterra Essential oils – Never ever travel without my little vials. Always need Lavender, Breathe, Peppermint, OnGuard etc 
Water Bottle – We love our glass BKR bottles, easy carry handle and oh so pretty
Lip balm – Paw paw / Hurrah / Aesop
Hand cream – Aesop all the way, resurrection is my favourite 
Face Spray – Evohe do a great one or I make my own with essential oils and water 
Camera – We all know how much I adore my Canon EOS 6D
Neck pillow – inflatable to save space, its so nice to wake up without a crick in your neck
Good jewellery – Plain, fine silver/gold jewellery to go with everything. Plus diamond studs 🙂 
Scarf – Classic, chic and warm 
Sunnies – Celine for the cities / Rayban aviators for sports 
iPad with TV shows pre loaded – Fargo season 2 and walking dead season 5 
Notes: