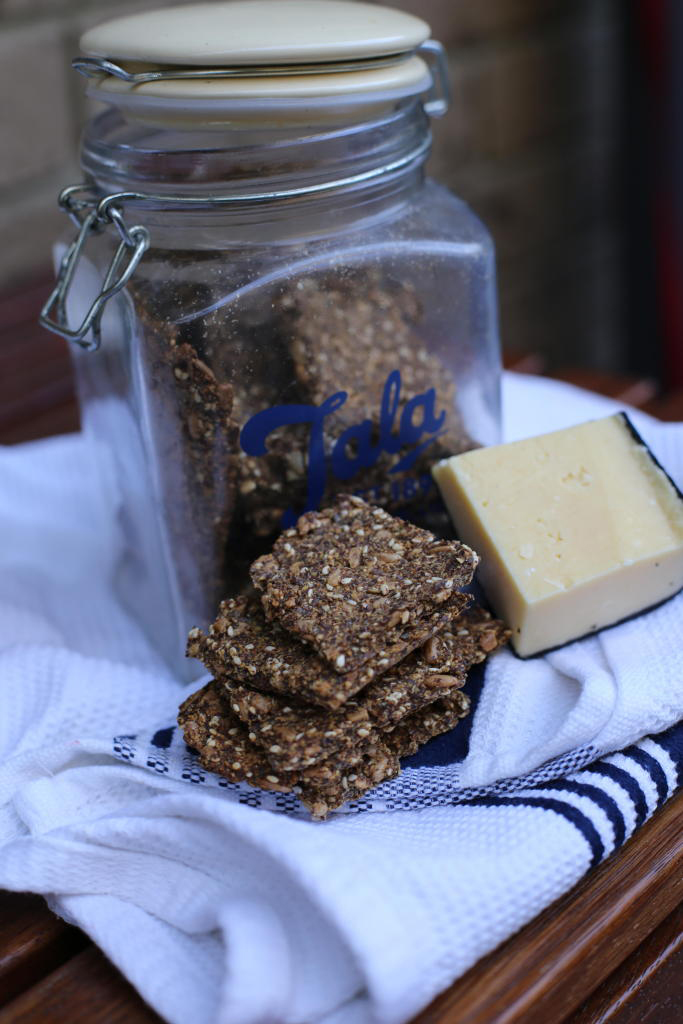 These are one of my absolute favourite savoury snacks. I put anything and everything on them, avocado, tomato, cashew cheese, Vegemite, dips, soups, in salads, organic cheddar, mums quince paste, hard boiled eggs, nut butters. I make sure to fill up a jar with them every week, they are definitely a staple in my pantry. 
I made them out of the desire to find a healthy cracker! Brayden loves his savoury snacks and so he would ask for crackers at work. I hated reading the ingredients on all the supermarket crackers and then lightbulb, surely I can make my own ?
Et voila, my seed crackers were born.
Homemade. Real ingredients. Simple & Easy. 
 
Ingredients
Seed Crackers
(makes 16)
1 cup of LSA (Linseed, Sunflower and Almond meal)
1/4 cup of sunflower seeds
1/4 cup of sesame seeds
1/2 a teaspoon of cumin
Pinch of salt and pepper
1/2 – 3/4 cup of water ( I generally use 1/2)
STEP 1
Preheat oven to 180 degrees (350F)
Put baking paper in tray
STEP 2
Mix all the dry ingredients in a bowl
STEP 3
Add water, a little bit at a time, you don't want to too runny and mix it all together
STEP 4
Spread out the mixture with the back of a spoon (make it as thin of as thick as you like)
Get a knife and slice through the mix into squares, as big or small as you like
Bake for 35 minutes
STEP 5
Make sure they are hard, if soggy, give another 5-10 minutes
Leave in oven with the door ajar until cool
STEP 6
Store in a sealed jar for up to a month (don't put in fridge as they'll go a bit soggy)
Enjoy with a range of toppings!
Notes:
MADE TO ORDER 
Batch (makes 16) >> $15
THIS FOOD CAN BE MADE TO ORDER
Paradise Pantry will make this recipe for you, full of fresh and nourishing ingredients. Please fill in the following form to place an order / enquiry. PP looks forward to cooking for you! The perfect solution for people who like to eat well but don't always have the time. Please allow 2-3 days notice to make your delicious meal.
DELIVERY INFO
ORDER REQUEST
---