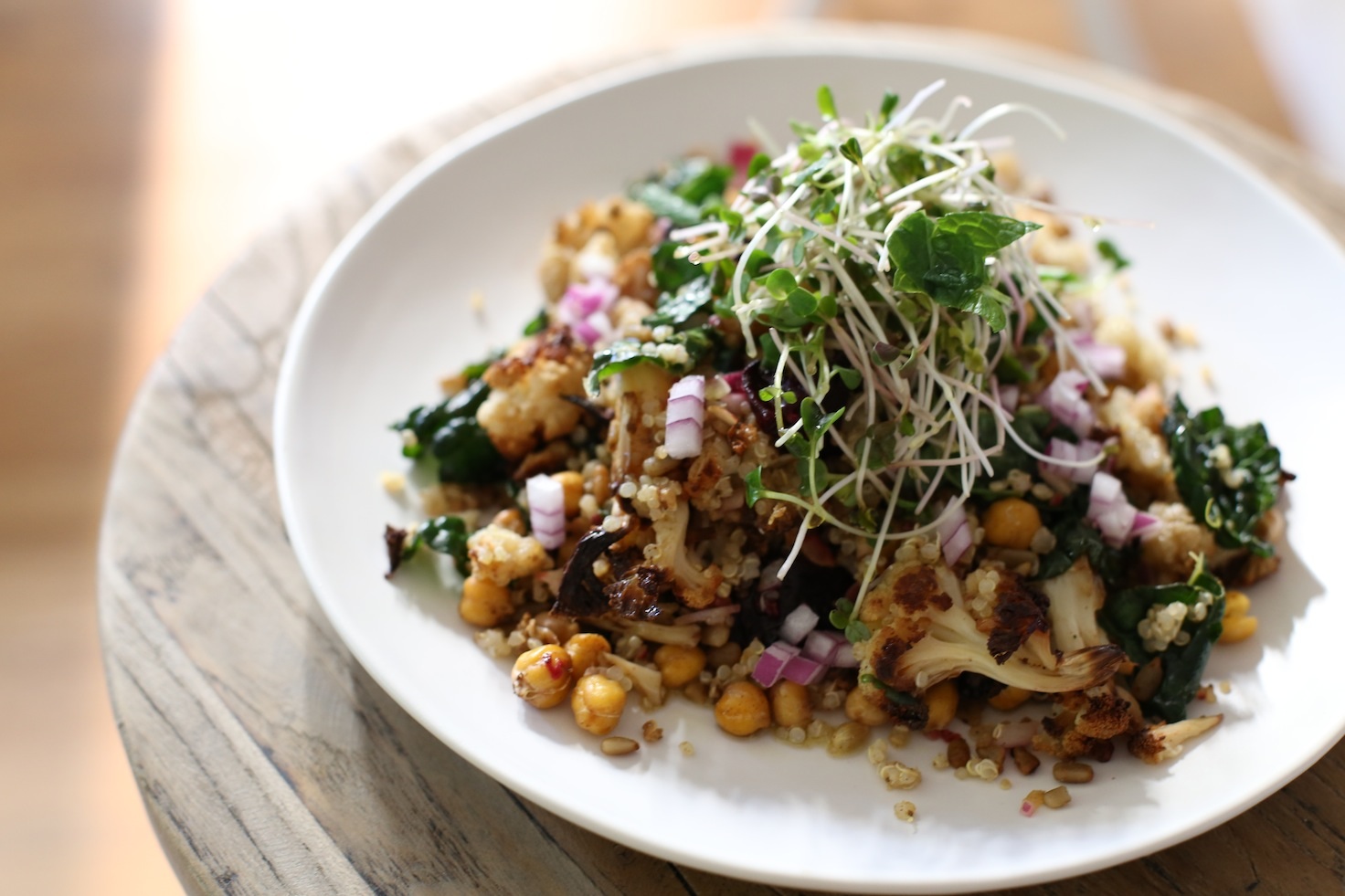 Is there any better way to eat cauliflower ? Roasting it just makes it so soft and flavoursome with the right amount of crunch on the edges. My mouth is watering just thinking about it.  I used to think cauliflower was a bit of a meh vegetable, this salad has totally changed it for me. This combo is meant to be together, I first got this idea from Jess Cox Nutritionist (genius) and have put my own little twist on it. I eat this for a main meal or as a side, plus I always make sure I have some leftover to brighten my lunch for the next day #yayleftovers. This recipe is extremely versatile, use whatever beans, seeds or grains you want. I sometimes add in grated beetroot, and I've made it with sesame seeds and cannelinni beans >> it always turns out great.
So next time you get a cauliflower, make sure this recipe is on your hit list.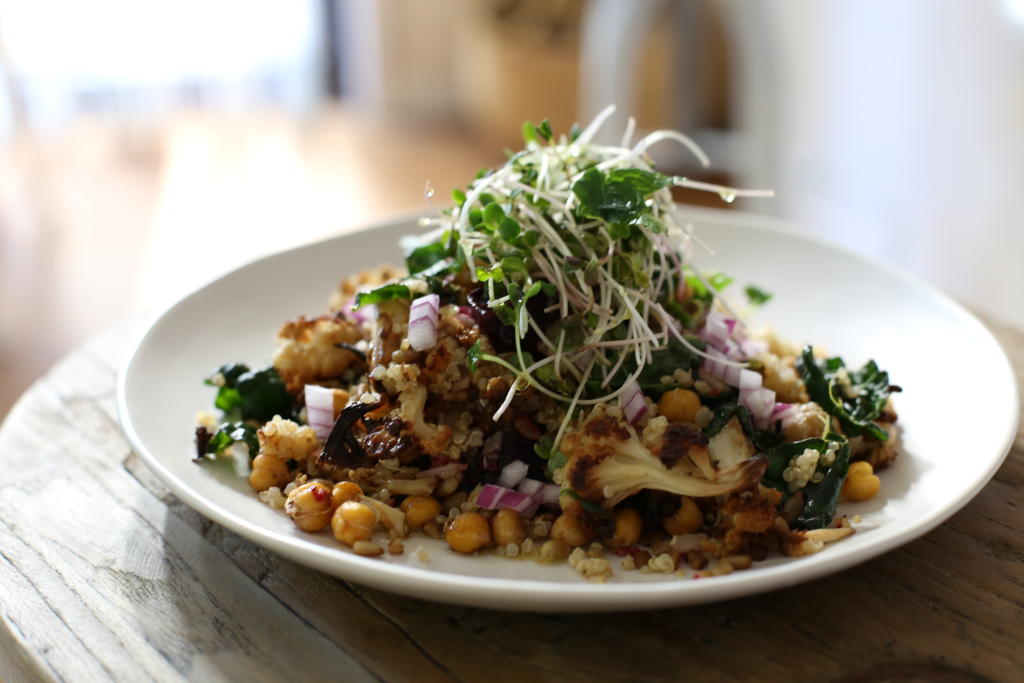 Ingredients
(serves four)
1 head of cauliflower (preferably organic)
2 tablespoon of melted ghee
1 teaspoon of cumin
1 cup chickpeas / or your choice of beans – or 1 tin (rinse well)
1/3 cup of sunflower seeds (pumpkin or sesame seeds are great too)
2 cups of cooked quinoa / or other grain
1/2  a small red onion
4 stems of kale
2 tablespoons of lemon juice
2 tablespoons of olive oil
Apple cider vinegar
10 mint leaves
Good handful of sprouts
Good sprinle of salt and pepper
STEP 1
Preheat oven to 220 degrees celsius
STEP 2
Cut cauliflower into florets and place on a baking tray
Add the chickpeas, seeds, salt, pepper and cumin to the tray
Toss everything around and make sure everything is well coated with the ghee
Leave in the oven for around 35-45 minutes, everything should be golden brown
STEP 3
Meanwhile cook the quinoa and leave in a pot until your ready to serve
Finely dice the red onion
Wash and rip up the kale, squeeze the lemon juice and olive oil over it and massage it in
Mix the apple cider vinegar, quinoa, onion, kale and cauliflower mix together in a large bowl
Sprinkle mint leaves and sprouts on top + extra salt and pepper if needed
Enjoy !
Notes:
Mango chutney and goats cheese are great add ins.
Omit onion chickpeas for FODMAP friendly
Gluten free – Dairy free – Real food
MADE TO ORDER – One batch (serves 4)>> $40
THIS FOOD CAN BE MADE TO ORDER
Paradise Pantry will make this recipe for you, full of fresh and nourishing ingredients. Please fill in the following form to place an order / enquiry. PP looks forward to cooking for you! The perfect solution for people who like to eat well but don't always have the time. Please allow 2-3 days notice to make your delicious meal.
DELIVERY INFO
ORDER REQUEST
---