Autumn, Breakfast, Drinks, Made to Order, Popular, Recipes, Seasonal Meals, Snacks, Spring, Summer, Winter
2 Feb | '2017 One Comment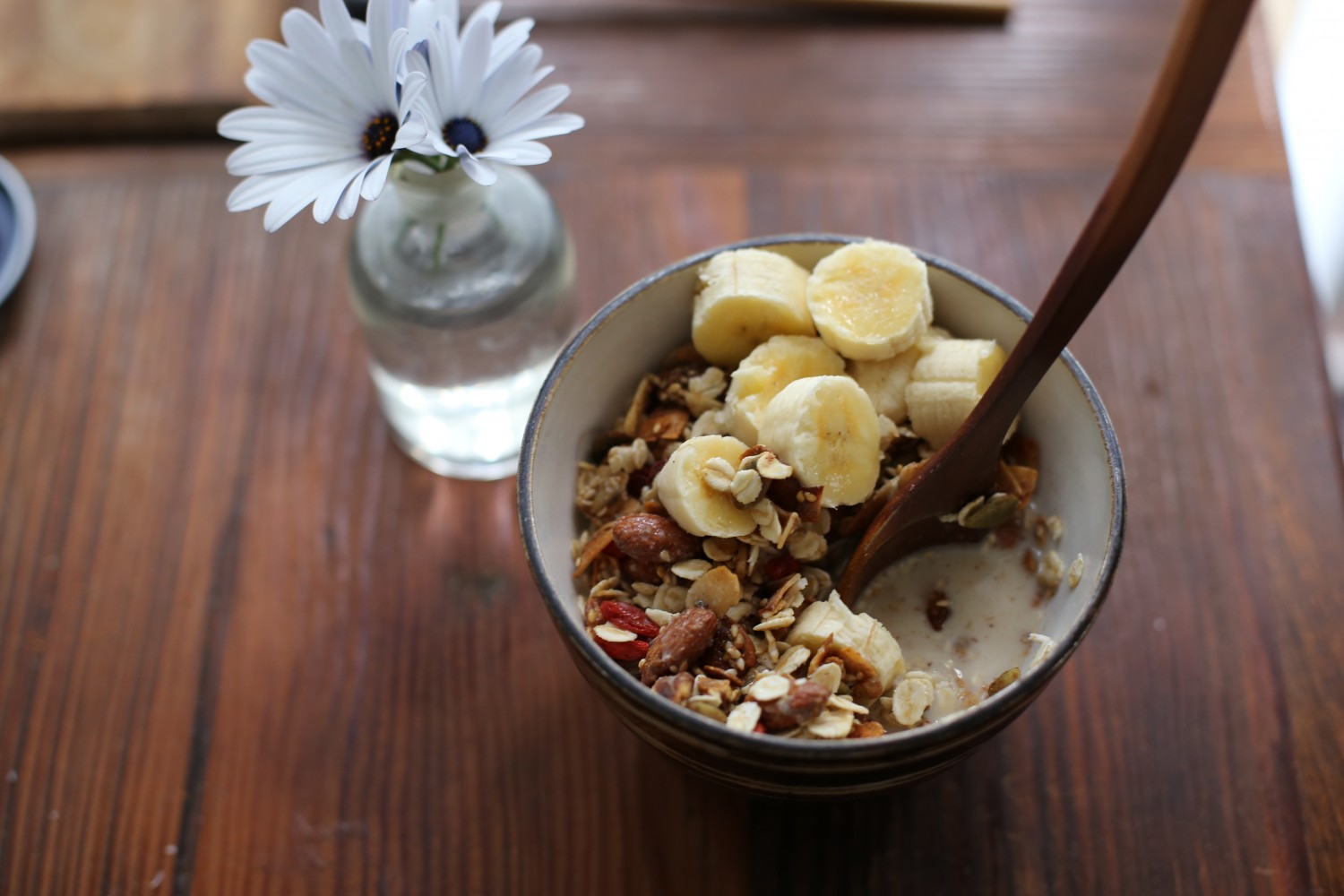 Today I'm so excited to share with you one of my all time favourite, best of the best recipes. One that I make weekly and enjoy nearly everyday. It's just so tasty, so simple and very nourishing. Last year and this year has been very busy – third year uni and building a house were not meant to be done at the same time but I made sure I always had my jar of granola filled and hey, I made it through! A tasty, healthy breakfast can help you achieve a lot of things.
It was my go to this morning after little sleep as we just brought our new puppy Summit home yesterday. It was nice to wake up and not have to think about what I going to eat. And obviously it was very quick to pull together which was perfect because hovering over a puppy 24/7 doesn't allow much time for anything else (he's sleeping at the moment). I'm covered in puppy saliva and sleep deprived but man he is cute – look at those little paws! He even has bananas on his collar #bananaobsessed #dogofadietitian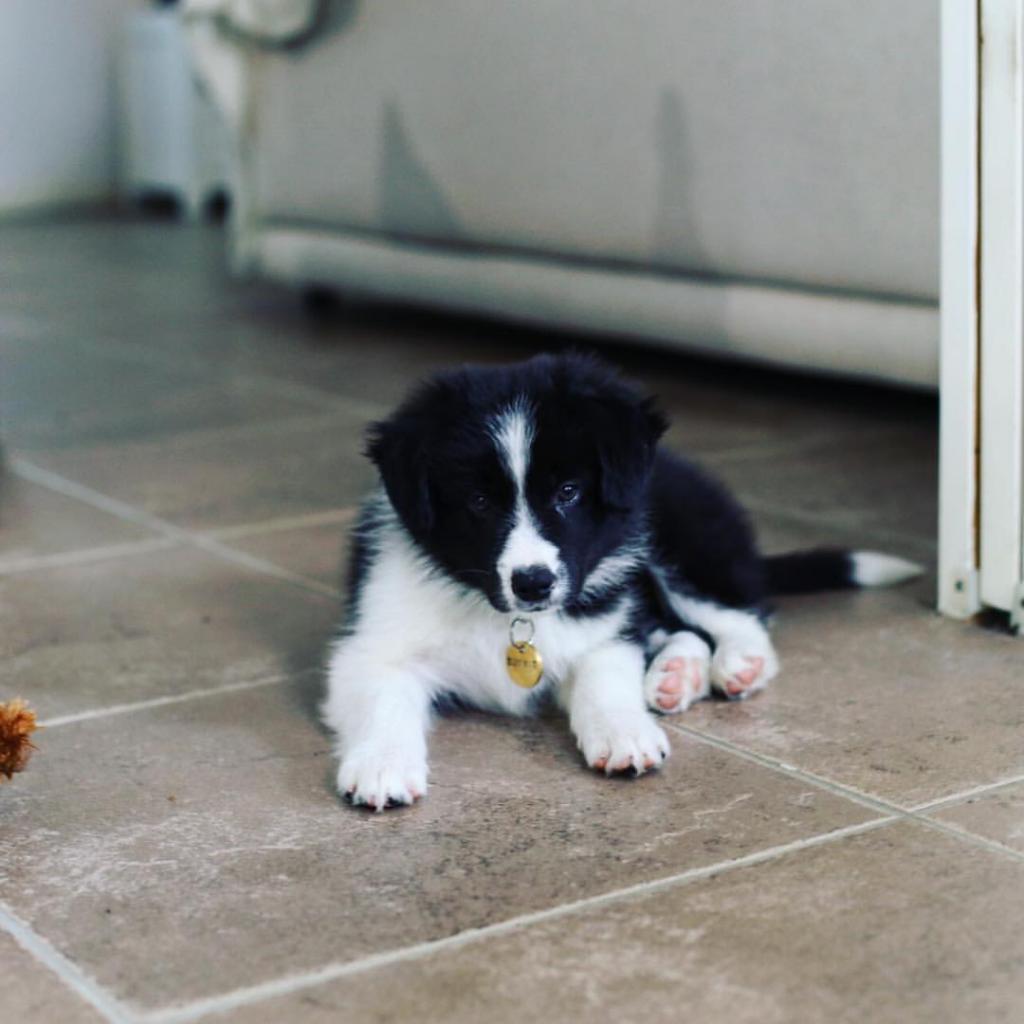 Homemade granola is something I'm very passionate about and as soon as I learnt how to make it and became a staple and a world of yummy breakfast creations opened up. It's one of those things that as soon as you make yourself you are like I can't believe I ever bought this. So many flavours to try, one of my other favourites is my Apple, Cinnamon Granola. This and my seed crackers are probably my most cooked recipes and can help you make any meal a lot more exciting.
When you are walking in the supermarket or a health food shop you will notice there are sooo, sooooo many granola products on the market. And most of the time they are packed with sugar or they are ridiculously expensive. Making this recipe even more amazing!
I always make it to take when I'm travelling, it keeps really well and all you need to buy when you get to your location is some milk/yoghurt and fruit.
A jar of beautiful fresh granola is also a great gift – the people I make it for usually end up requesting the recipe 🙂
My favourite ways to enjoy banana granola: 
✻ Sprinkle of smoothie bowls
✻ Great snack combined with some yoghurt
✻ With fresh milk and berries
✻ On top of chia pudding / stewed fruits
Ingredients
3 cups oats
1/2 cup raw almonds
1/2 cup raw pumpkin seeds / sunflower seeds
1/2 cup of coconut flakes
1/4 cup of sesame seeds
1 tbs cinnamon
1 tsp vanilla extract
1 pinch sea salt
3 tbsp olive oil / macadamia oil
3 tbsp runny honey / maple syrup
2 or 3 very ripe bananas, peeled and mashed
Goji berries / sultanas / cranberries
* Add cacao and cacao nibs for a chocolatey twist
* Add buckwheat if you want some added crunch and goodness
* Use other nuts if you don't like / don't have almonds
STEP 1
Preheat the oven to 200°C and line a baking tray with baking paper.
STEP 2
In a large bowl, combine oats, almonds, pumpkin seeds, vanilla and salt.
STEP 3
In a separate bowl add coconut oil, maple and bananas. Use your hands to mix the ingredients completely smooth. Add the banana mixture to the dry mixture and combine well, using your hands, for about a minute, so all is well-coated and clumpy.
STEP 4
Turn out and spread the granola in an even layer on the baking tray. Place in the middle of the oven and bake for 15 to 20 minutes, check at around 10 minutes and turn the granola over with a wooden spoon. Allow to cool completely before putting in a container.
STEP 5
Serve with yoghurt, milk and fresh fruit.
THIS FOOD CAN BE MADE TO ORDER
Paradise Pantry will make this recipe for you, full of fresh and nourishing ingredients. Please fill in the following form to place an order / enquiry. PP looks forward to cooking for you! The perfect solution for people who like to eat well but don't always have the time. Please allow 2-3 days notice to make your delicious meal.
DELIVERY INFO
ORDER REQUEST
---