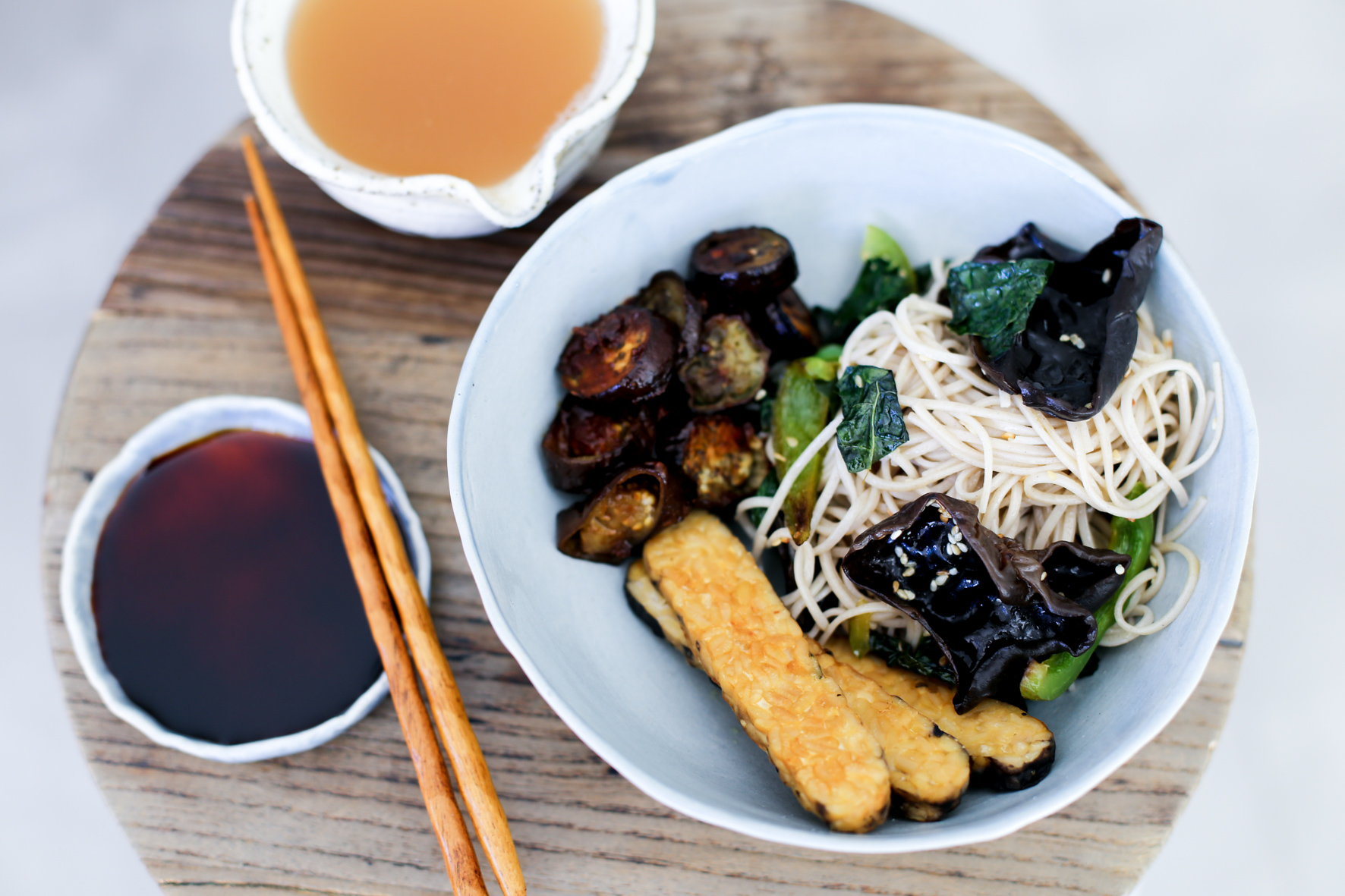 You all know how I love my bowl foods. Particularly those involving japanesey ingredients ❤❤❤ So when Australian Organic gave me some goodies to play with and I saw these delicious fresh black fungi mushrooms at the farmers markets I knew some kind of mushroom noodle bowl had to be made. If you can't get your hands on these just use shiitake or oyster – all mushrooms are amazingggg. I've been making my own bone broth lately,  I started doing it for Blaze when he was sick but know am continuing to make it for us because its so darn tasty, easy and nutritious. Particularly for my gut ! I love using it instead of normal stocks in soups and risottos.
I adore tempeh, its adds protein to the meal and a beautiful texture and taste. If you don't like it though just use tofu, salmon or chicken ◆◇◆
I really prioritise eating organic fruit, vegetables, grains, skincare, pretty much any product, they taste better, fresher, look and smell better, my body thrives more and the ingredients list tends to be a lot shorter and simpler. In Australia we are so lucky to have this amazing bud logo on certified organic products making it so easy to identify that it really is a high quality organic product. Seriously, thanks Aus Organic I would be lost without you !!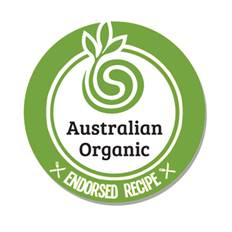 The soba noodles, miso paste and tamari used in this recipe are from Spirals Foods – can be found in health food shops and supermarkets. This recipe would be perfect for a nourishing week day dinner, I hope you enjoy it as much as I do!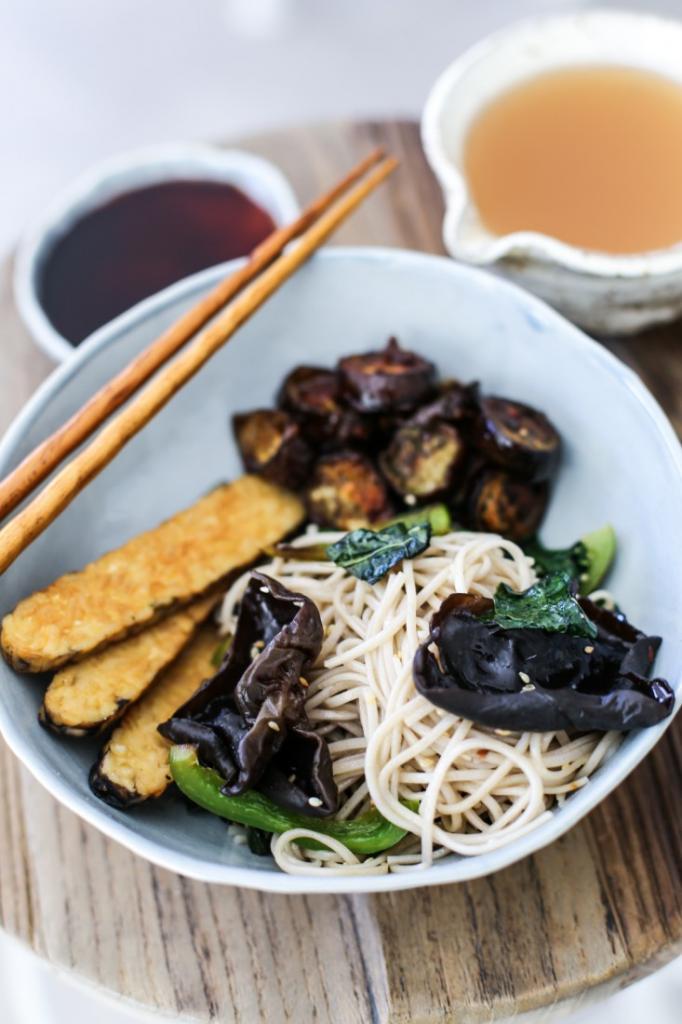 Ingredients
Serves 1-2
*1 heaped tbs Spiral Foods miso (Certified by Australian Certified Organic)
3 tbs water
*1 tsp maple syrup
*3 small / 1 large eggplant
*1 bunch Spiral Foods soba (Certified by Australian Certified Organic)
*3 pieces of tempeh
*2 tbs of ghee or oil + 1tsp (homemade or store bought)
*5 -10 pieces of black fungi (found these at the farmers markets)
*3 stems of kale
*1 small capsicum
1 cup of bone broth (*homemade or store bought)
*1 tbs of sesame seeds
*1 tbs Spiral Foods tamari (Certified by Australian Certified Organic)
*Denotes ingredients that can be sourced certified organic. Not sure where to find certified organic ingredients? Go here.
STEP 1
Preheat oven to 180 degrees
Mix miso paste, water and maple syrup in a small bowl
STEP 2
Roast the eggplant in the oven with a 1tbs of ghee until soft (20-30mins)
Pour miso mixture over the eggplant and cook for another 8-10 minutes
STEP 3
Cook soba noodles and set aside
STEP 4
Pan fry tempeh in ghee until golden brown
STEP 5
Stir fry the kale, fungi and capsicum with 1tsp of ghee, add in sesame seeds
When cooked add in the soba, combine with the vegetables
STEP 6
Heat up bone broth in a saucepan and pour into a bowl
Pour tamari into a small dish
STEP 7
Assemble how you like, either pouring some of the bone broth into the bowl to make it more like a soup or drink separately, dip the noodles into the tamari and enjoy !