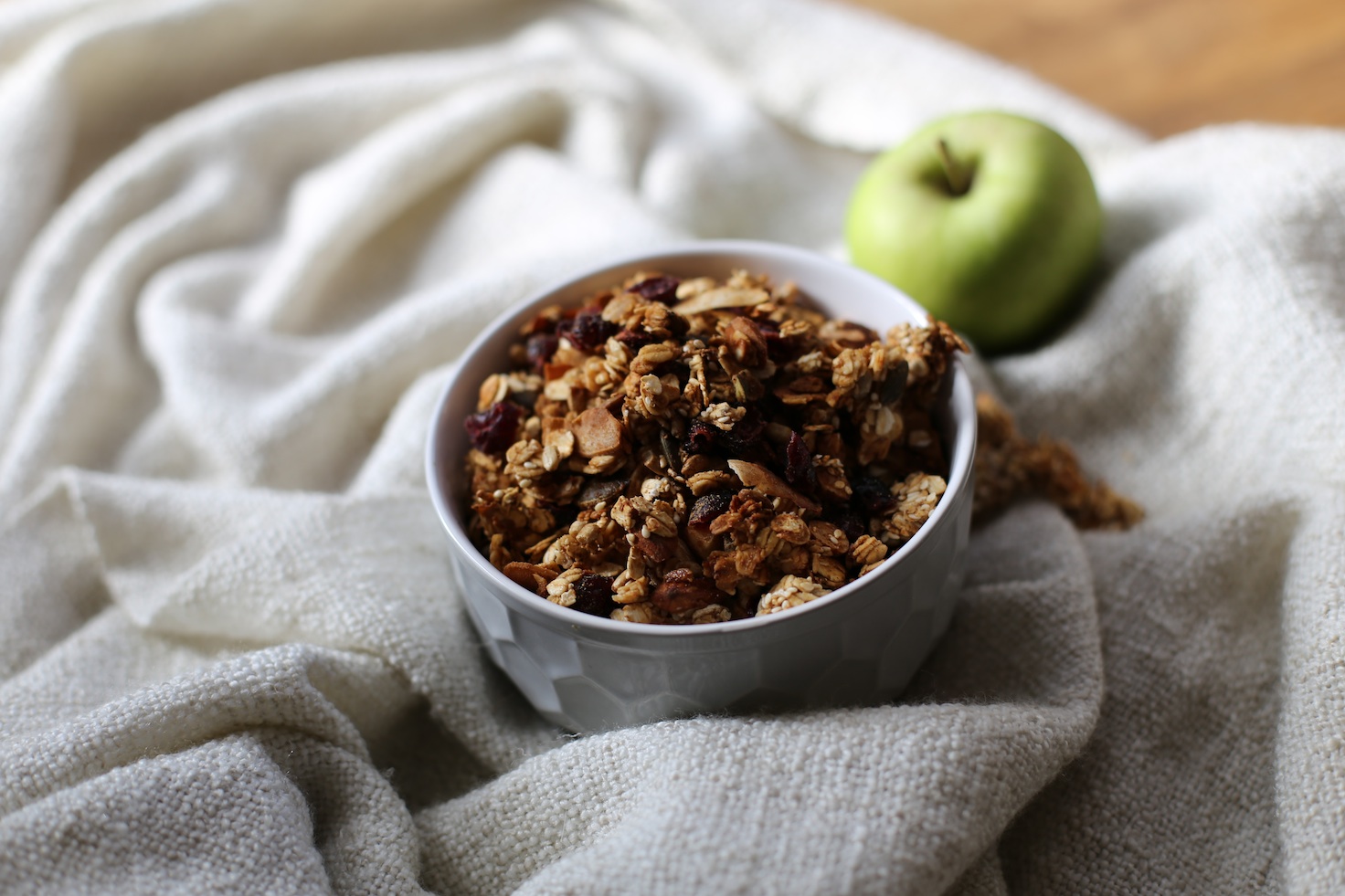 Here is it. The famous, (well at my yoga classes anyway) the delicious, APPLE CINNAMON GRANOLA !
Granola is a staple in my kitchen. I always have to have a jar of it otherwise my kitchen feels naked, (same goes for my seed crackers). This is my go to breakfast, topping and snack.
Warning : It granola is very, very moorish. Like pour the amount you are going to eat and then lock the granola in a cupboard moorish ツ
This is super quick to make, especially when you've made it a couple of times. Plus your kitchen will smell amazing for a couple of hours. And most importantly you get to eat it for the next week… if it lasts that long 😉
I adore the combination of apple and cinnamon, they are just meant to be together. The applesauce means that the mixture is quite moist so it needs a lot less oil added than other granola recipes. It also adds sweetness which means you need less sweetener. Annndddd it helps form the most beautiful little clusters. Yay for applesauce!
My favourite ways to enjoy granola:
With plant based milk, coconut yoghurt and fresh berries
On top of smoothies or chia pudding
By itself, those clusters ❤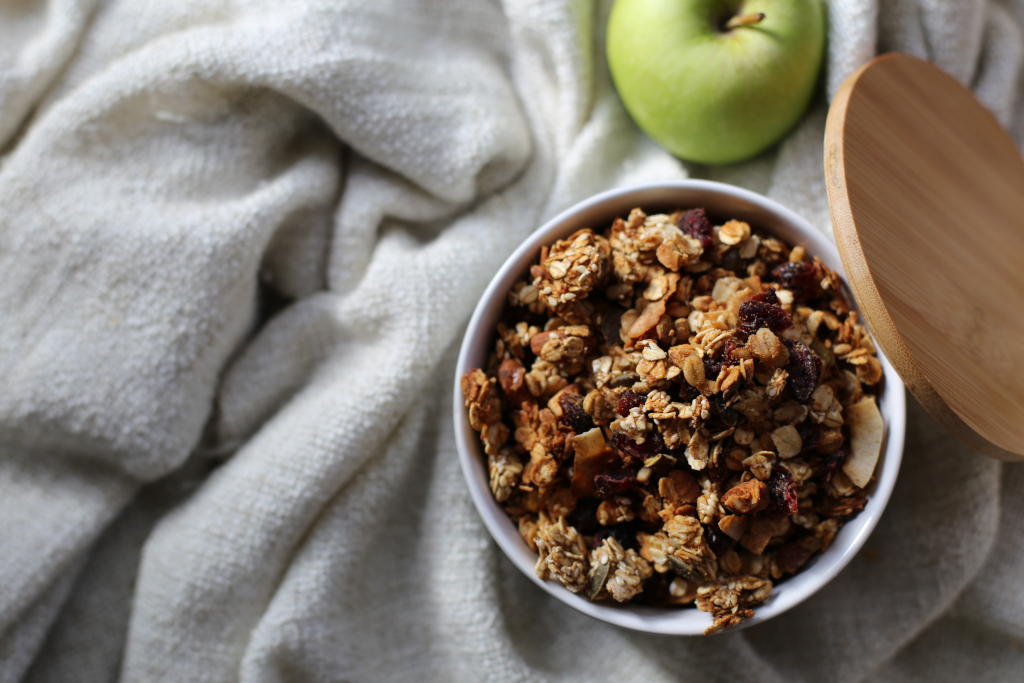 Ingredients
Makes 1/2 kg 
1/2 a jar of apple sauce (185g)
4 cups of oats
1 tablespoons of cinnamon
1/2 a cup of almonds
1/4 tsp of powdered ginger
1/4 tsp of powdered nutmeg
1/4 cup of pumpkin seeds
1/4 cup of sunflower seeds
1/4 cup of sesame seeds
1/3 cup of coconut flakes
1/3 cup of oil (coconut / olive / macadamia / rice bran)
1 tsp of vanilla paste
2 tbs of honey or coconut sugar (sprinkle coconut sugar over the mixture just before it goes in the oven)
A good handful cranberries or goji berries (add at the end after the granola has been cooked)
STEP 1
Preheat oven to 180 degrees
STEP 2
Mix oats, nuts, seeds, spices and coconut flakes and mix well
STEP 3
Add applesauce, oil, vanilla and honey (if using), mix well
STEP 4
Line a large tray with baking paper. Spread out granola in an even layer. Sprinkle over the coconut sugar (if using)
STEP 5
Bake in oven for 20 mins, then toss around with a wooden spoon. Bake for a another 20 minutes, stirring around every ten minutes until golden brown.
STEP 6
Store in an airtight container for 3 weeks.
Enjoy !!
Notes:
Use any nuts or seeds you want, this recipe is very versatile
THIS FOOD CAN BE MADE TO ORDER
Paradise Pantry will make this recipe for you, full of fresh and nourishing ingredients. Please fill in the following form to place an order / enquiry. PP looks forward to cooking for you! The perfect solution for people who like to eat well but don't always have the time. Please allow 2-3 days notice to make your delicious meal.
DELIVERY INFO
ORDER REQUEST
---