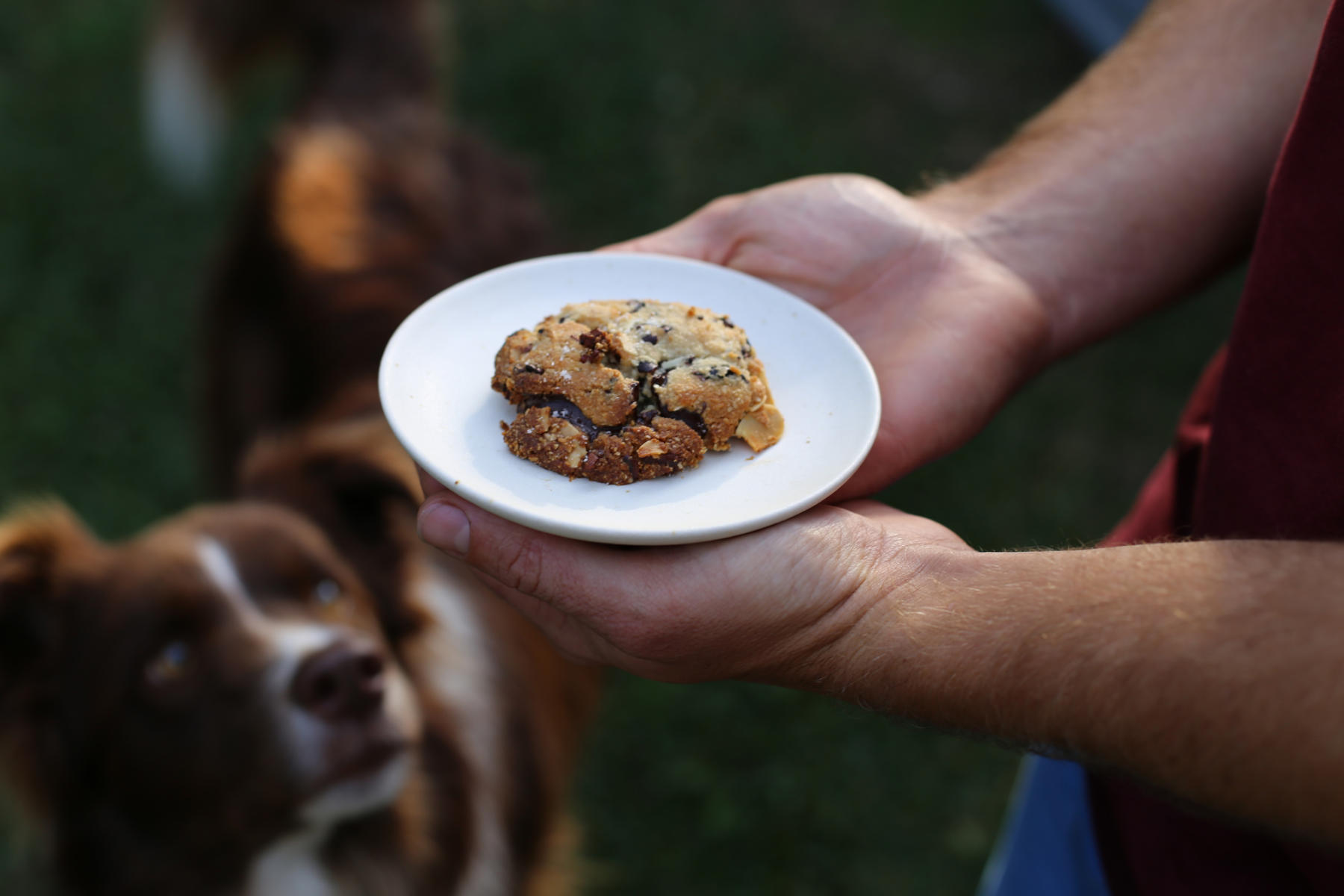 These bad boys are the most amazing cookies hands down. The perfect cookie I would go so far as to say. I'm pretty sure Blaze thinks so too, those eyes are hoping that it falls to the ground so he can gobble it up, even though I tell him that chocolate is bad for him. I nearly always enjoy these with a hot drink >> green tea, hot chocolate, chai, matcha to name a few. Brayden loves them with cold milk. He begs me to make them and I often surprise him with them.
They are a great use for almond pulp from when you make nut milk. I usually do half pulp, half normal almond meal so they still stick together. They don't get as crunchy but they are still quite nice and perfect if you don't like waste. 
Its the texture, the flavour, the ingredients that combine to form the most delicious choc chip cookie IN DA WORLD ✓ The slight crumble but not so they fall apart, the chunks of chocolate that delight your tastebuds but don't overwhelm them, the tiny sprinkle of salt that brings out the flavour even more. Oh, I want one now. But the best thing is that they take about 20 minutes to make. winning.
Gluten free, refined sugar free, grain free, vegan/dairy free depending on which chocolate and sweetener you use. All in all the have got to be some of the healthiest and tastiest cookies around so set aside 20 minutes and fill up your cookie jar of place and order and I'll do it for you ☆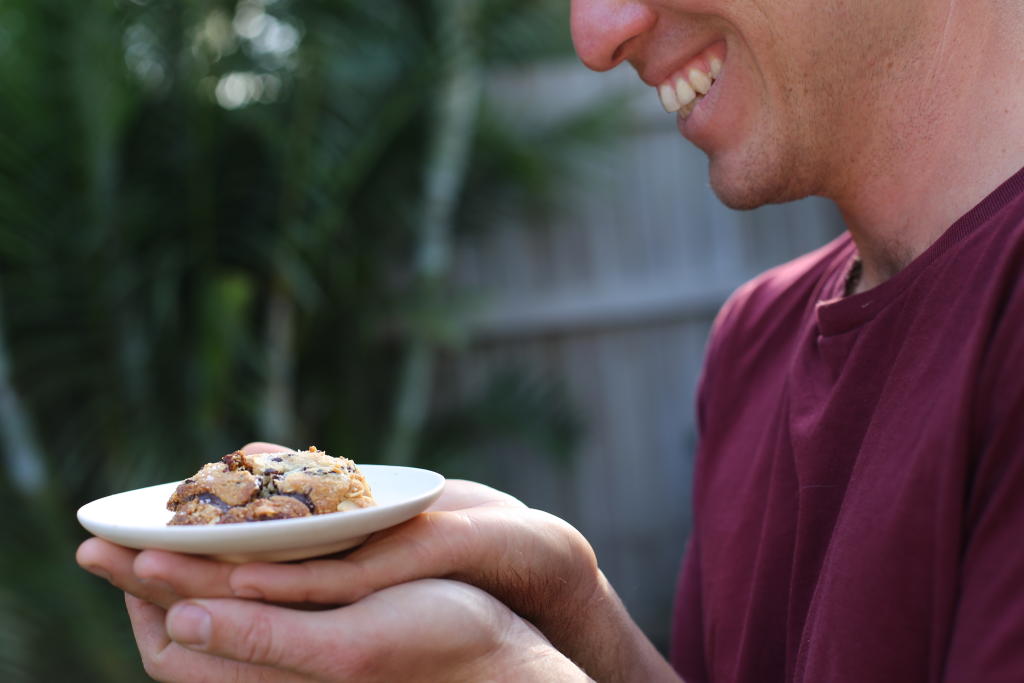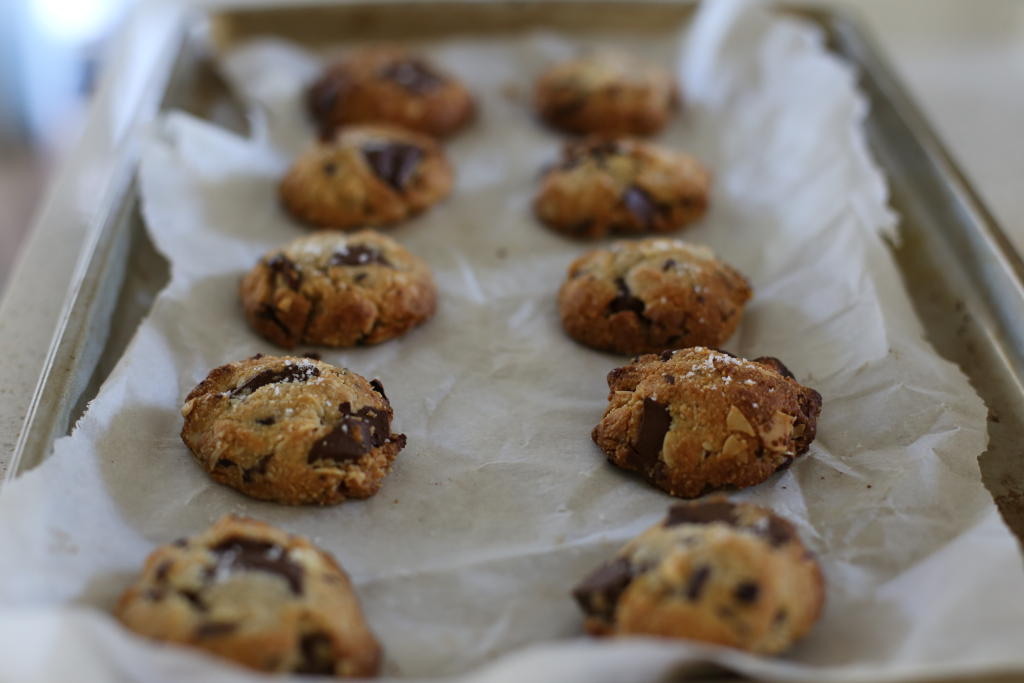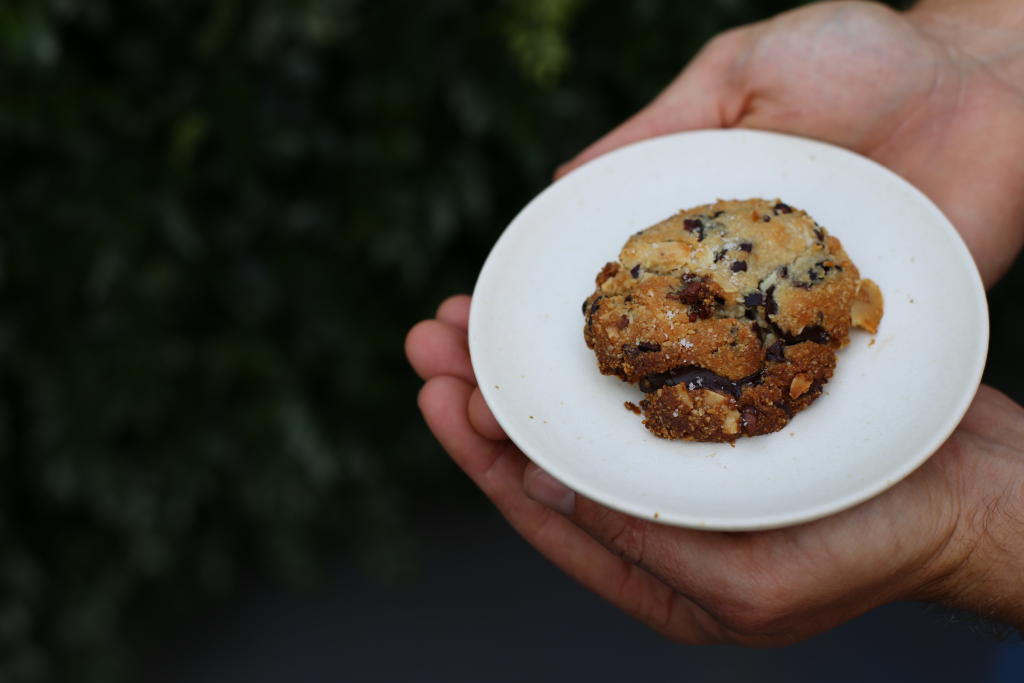 Ingredients
(makes 12)
2 cups of almond meal
1/4 of a cup cacao nibs
1/3 of a cup flaked almonds
1/2 a teaspoon vanilla paste
2 1/2 tablespoons of honey or maple syrup (or alternative liquid sweetener)
3 1/2 tablespoons of macadamia nut oil or coconut oil
50 grams of good quality dark chocolate~ roughly chopped ~ I use Loving Earth or 85% Lindt
A couple of pinches of celtic sea salt
STEP 1
Preheat oven to 180 degrees celsius
STEP 2
Combine almond meal, flaked almonds & cacao nibs
Add honey, vanilla, oil and stir ( sometimes easier to do it with your hands, add a touch more oil if the mix isn't sticking together)
STEP 3
Throw in the chocolate and lightly fold it in
Roll into small balls and push down
Bake in oven for 12-15 minutes or until golden brown
STEP 4
Wait a bit from them to cool for 5 minutes, hard I know, but it helps them became more firm plus the chocolate is super hot
Sprinkle a pinch of salt over them
Enjoy by themselves, or with a hot or cold drink  ❥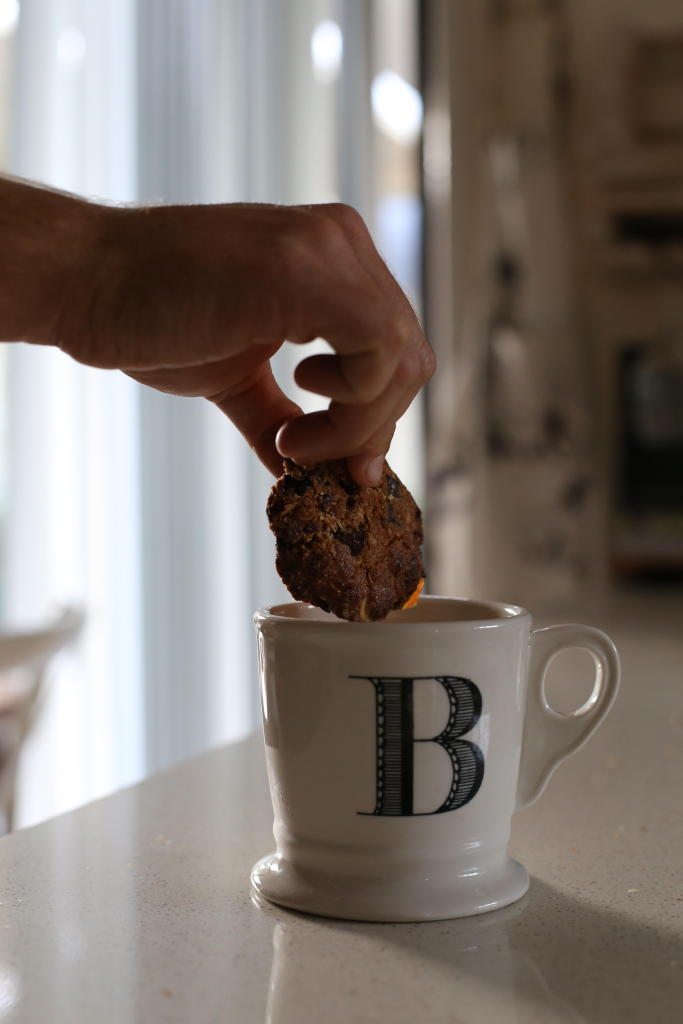 Notes:
MADE TO ORDER
 Batch (10 cookies) >> $30
THIS FOOD CAN BE MADE TO ORDER
Paradise Pantry will make this recipe for you, full of fresh and nourishing ingredients. Please fill in the following form to place an order / enquiry. PP looks forward to cooking for you! The perfect solution for people who like to eat well but don't always have the time. Please allow 2-3 days notice to make your delicious meal.
DELIVERY INFO
ORDER REQUEST
---