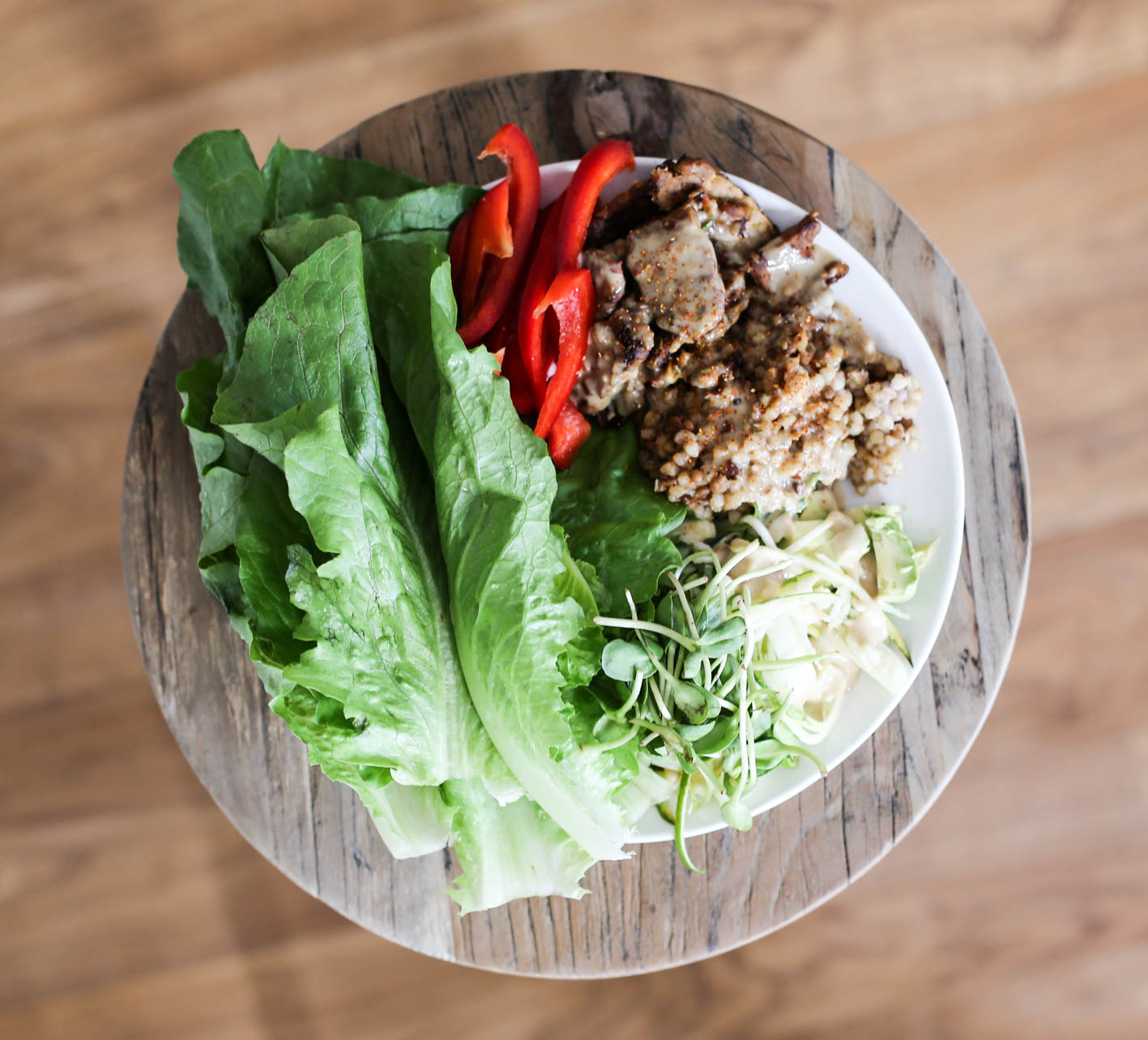 I could rave about this lettuce all day but I'm going to save that for another post. In saying that it is hands down the best, freshest, crisp lettuce I have ever eaten! One of the many foods that is going to get me through this hot Australian summer.
Now, tempeh. My new favourite thing to incorporate in my diet. My wonderful yoga teacher put me onto it and now I'm hooked. It's usually made form fermented soybeans, but their are versions of other beans out there. e.g. chickpea or fava beans.
I love the nutty firm texture plus it is high in protein, copper, manganese, riboflavin and niacin ✔✔✔✔✔
Tempeh is super versatile, you can pretty much use it anywhere you would use tofu or meats. Just a little tip though, always slice is quite thinly as the taste can be strong if you eat big chunks of it – I learnt the hard way and through a whole block away (whoops) because I cut it into big cubes and couldn't understand what everyone was on about because it tasted pretty bad… Lesson learnt, and I'm glad I did because now its one of my weekly foods.
I love using the combo of buckwheat and zoodles, but it would be great just with rice/soba noodles too.
It's pretty impossible to stuff these up, just make some you've got beautiful, fresh crunchy ingredients with a grain and a delicious sauce and you're good to go ツ
Ingredients
Serves 2 (hungry people)
1/2  a block of Tempeh – I love the chickpea one from Byron Bay
1 knob of coconut oil / ghee
1 head of cos Lettuce
1/2 a large Avocado
1/2 a red/green Capsicum
1-2 Zucchinis (noodles)
2 good handfuls of Sprouts
1 cup of cooked Buckwheat
6 mushrooms – shiitake or swiss brown
Dressing
1/4 cup of Tahini (hulled)
1 tbs Miso paste (optional)
1 tbs Tamari / soy sauce
1 tsp Maple syrup / honey
1 tsp Rice wine vinegar / apple cider vinegar
1 tsp Cold pressed sesame oil
3 tbs of Water
Other additions that would be yummy:
Grated carrot / beetroot
Cucumber
Tofu instead of tempeh
Toasted sesame seeds
STEP 1
Thinly slice the tempeh and fry until golden in some coconut oil or ghee
Fry up the mushrooms and set aside
Mix all the ingredients for the dressing and put in fridge
STEP 2
Prepare vegetables by washing the lettuce and sprouts, julienning the zucchini, slicing the avocado and capsicum
STEP 3
Add cooked buckwheat, vegetables and tempeh onto plates or a large platter
STEP 4
Put a little bit of everything into the lettuce cup, drizzle with the dressing and enjoy !
Notes: